Congratulations soon to be Graduates!
---
In the effort to remain green on campus, all ­­­Longwood students will be wearing environmentally conscious GreenWeaver® regalia. This line of graduation wear is made of fabric spun from molten plastic pellets produced from 100% post-consumer recycled plastic bottles.
Each day in the US more than 60 million plastic water bottles are thrown away. Most end up in landfills or incinerators, and millions litter America's streets, parks, and waterways. With an average of 23 plastic bottles being used to produce your cap and gown; you are helping to ensure a cleaner, healthier future for our planet.
Order academic regalia online Monday, December 3rd - Thursday, February 14th for pickup at Countdown to Commencement. Countdown to Commencement will be held in Blackwell Ballroom on Tuesday, March 19th from 4:00 PM - 7:00 PM. Join your classmates and professors to begin the celebration of your great achievement.
You may order to ship to your home beginning Wednesday, March 20th - Friday, May 3rd. Academic regalia will also be available for purchase in-store at Barnes & Noble at Longwood University beginning Wednesday, March 20th after the Countdown to Commencement event.
Longwood University Pricing

Bachelor Package:

$97.96

Bachelor Hood Only:

$31.98

Master Package:

$105.96

Master Hood Only:

$36.98

Cap Only:

$5.98

Tassel Only:

$5.98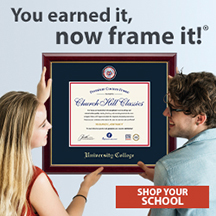 Please visit Longwood's convocation page or Barnes & Noble at Longwood for any information about the Ceremony.
**Please note group orders will not be accepted. Only one complete package may be purchased per order.**